Yesterday we launched a new philanthropic initiative called Freshman Year for Free. Our client, Modern States Education Alliance, wanted to host an event that aligned with the organization's mission of offering tuition-free online courses that lead to credit at more than 2,900 colleges and universities. After brainstorming and rejecting several ideas, we decided to make our official launch announcement online via Facebook Live.
Because the organization is an alliance, involving a couple of key partners seemed the obvious thing to do. Plus, these partners are much more established and have bigger social followings than our nascent initiative. Fortunately, both edX and the College Board agreed to join us.
The challenge: bringing the Boston-based CEO of edX into our Facebook Live broadcast from New York City. We considered a few options until edX discovered you can now do a split screen on Facebook Live. We'd never seen anyone try this before, but it seemed like the perfect solution.
We began the broadcast with a solo shot from Modern States, where the new initiative was announced. During this period the edX CEO posted a comment on our Facebook Live, allowing us to simply tap the comment on our iPhone and then tap again where it asked if we wanted to invite him to join the Facebook Live. That sent him an invitation and as soon as he accepted we went into split-screen mode.
Here's edX CEO Anant Agarwal sharing the screen with Modern States' Steve Klinsky and Emily Paulsen of the College Board.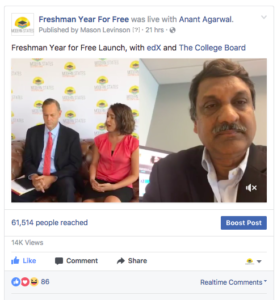 The main challenge was making sure the New York-based participants could hear Anant through the iPhone (on a tripod)  we were using so that the conversation remained cohesive for the entire 45-minute broadcast. Otherwise, it worked like a charm.
Here's a behind-the-scenes look at the operation.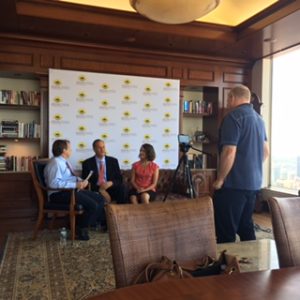 Have you tried to co-broadcast with a partner via Facebook Live? What solutions worked best for you?