"Did you apply for a job yet?" "How m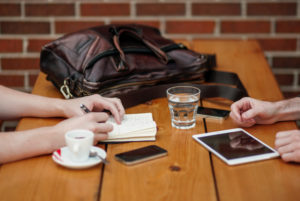 any?" "Any responses yet?" "Send more applications!"
That rapid-fire questioning came courtesy of my parents earlier this year and lasted for six months.
Prior to my graduation from Towson University in May, I was under the impression that finding a job would be simple. I imagined leaving school with a job offer in hand and starting my career right away. The reality was that an immeasurable amount of young adults were looking for employment around the same time I was; I quickly realized my search would take longer than originally planned.
However, throughout my job hunt, I grew familiar with the paradox: how can you get a job if you don't have experience, but how can you get experience if you don't have a job? Knowing the importance of entering the workforce with some expertise, I proactively sought out two internships with well-known public relations firms in the Baltimore area. Combined, I had approximately 11 months of experience. Not even a whole year! Of course, employers would want more.
It wasn't until I received a few rejections from potential employers and my internship with Sandy Hillman Communications was winding down, that firm founder Sandy Hillman told me of a connection in Hoboken, New Jersey. Knowing I had plans to move home to the Garden State, Sandy requested my resume and cover letter; she would pass them along to her former employee, now running her own PR firm.
During this back and forth, I realized it's not about how many jobs you apply for or how many interviews you go on – when searching for employment, who you know plays a major role. For me, this was an early lesson in the importance of networking. According to NPR, between 70 and 80 percent of available jobs are not posted online and between 70-80 percent of job seekers focus their search online. Astounding!
A few weeks passed before I heard from Rosemary Ostmann – the former employee of Sandy's. She told me the workload at her firm was increasing and they would likely add a junior-level position in the near future. In addition to our mutual connection, I found out that an employee of hers also went to my recent alma mater.
After interviewing with Rosemary and meeting her team, she offered me an open account coordinator position. I accepted, officially kicking off my career in PR with RoseComm in October, five months after graduation. If not for Sandy, I wouldn't have known about this incredible opportunity. Thanks to networking, I have an amazing job in an industry I am passionate about.
Prior to this experience, I underestimated the power of networking. I won't let that happen again. Do you have positive networking experiences to share? Tell us in a comment below.