Across generations and borders, great minds have agreed that the freedom of the press precedes all other freedoms. The press is the "unsleeping guardian," as Winston Churchill called it, and a "precious privilege that no country can forego," as Mahatma Ghandi saw it. Reporters are the foot soldiers of the press. They risk so much to protect us, and yet in recent years, we have seen heinous crimes carried out against them. For some of us, the scenes of these crimes might have seemed far away, but this year's election has brought into question the freedom of the press right here in the United States.
In the last few months, President-elect Donald Trump has blacklisted major media outlets, barring their reporters from rallies; threatened to soften legal protections for journalists, making it easier for public figures to sue them; and neglected to follow protocol of inviting the press with him on official business. Many see these as signs of tough times to come – not only for the press but for everyone.
Much like how we all share the planet, we all share the press. Restrictions on and threats to the freedom of reporters to shed light on what is happening in our world should be alarming to people everywhere — and at this particular time in history, especially to the people of what might have once seemed like an insulated United States. We can no longer comfort ourselves with the belief that violence against the press is a product of otherness – something that happens in other parts of the world, in other countries, under other governments.
Threats to the press are also threats to our freedom to know and learn about the world around us, the various perspectives that make up our society and the events that will eventually become our history. These threats are real, and they are happening right here, right now, and their potential to grow is great. And so there has been a cry for action – for the members of the press to build up their reserves and strengthen their resistance and for the public to protect what protects them.
We can start answering the cry for action by joining the voices and forces that have been guarding the guardians even when no one was looking. The people who make up the New York-based Committee to Protect Journalists have worked tirelessly to reason with unreasonable governments that have jailed those who dare to bear a pen or camera. On Tuesday, November 22, the CPJ will present this year's International Press Freedom Award, recognizing reporters who have taken great risks and faced grave challenges in doing their jobs, to imprisoned photojournalist Mahmoud Abou Zeid, also known as Shawkan.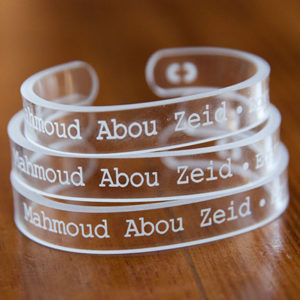 Shawkan has been detained since covering violent political clashes in Cairo three years ago. He also was one of 13 imprisoned journalists who were the focus of a grassroots campaign called Press Uncuffed, created by students at the University of Maryland and their professor, Pulitzer Prize-winning reporter Dana Priest, and backed by the CPJ. My colleagues here at RoseComm applied their time and expertise to promoting the campaign, helping to raise the funds to produce thousands of cuff bracelets featuring the names of each imprisoned journalist. The bracelets are still being sold, and 100 percent of the proceeds goes to supporting the CPJ in its quest.
Two years after Press Uncuffed was formed, seven of the 13 imprisoned journalists have been released – from prisons in Iran, Ethiopia, Mexico, Vietnam, China and other countries – while Shawkan remains with the looming threat of the death penalty. But he has not been forgotten. The CPJ also plans to launch next week an online campaign, asking people to take photos of themselves holding signs with #FreeShawkan and post them online. The goal is to put pressure on Egyptian authorities to finally let Shawkan go.
It does not matter that Shawkan is Egyptian or that the media outlet he was working for at the time of his arrest is British. It matters that his work contributes to the collective global press corps. That makes him everyone's reporter, a guardian of everyone's rights. If we care about our rights, we need to care about his, and we can use the power of our own words and photographs to protect him. Shawkan may be just one journalist locked in a place that seems very far away, but we can take on our new mission by saving him, and we can be sure the reverberations will be heard around the world.