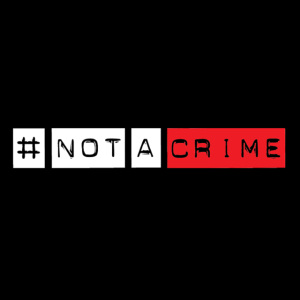 Sometimes work doesn't seem like work at all – it's more like a privilege. This was the distinct feeling I had last week when Maziar Bahari was in town for a "Rosewater" screening and the filming of the last episode of The Daily Show.
Bahari, a journalist who was imprisoned in Iran and was the subject of Jon Stewart's film "Rosewater," is working to pressure the Iranian government to end its human rights abuses. We're launching the newest part of his Not a Crime campaign in September, so while he was in town we seized the opportunity to arrange initial interviews for him with major media.
Not a Crime's latest project, #PaintTheChange, focuses on the Iranian government's efforts to deny some of its citizens access to education and to silence journalists. It will provoke conversation about the country's human rights violations in the run up to the UN General Assembly meeting in September. Marrying old and new forms of communication – street art and social media activism – artists will create a series of wall murals throughout NYC and NJ to provoke conversation about the control the government has over its people and to advocate for change.
It felt like kismet to win this project after our work on Press Uncuffed. Rosemary happened to be reading Bahari's memoir when we got the call.

For me, this project has sparked a series of realizations:
It's back to school time, but not everyone can go.
The Baha'is, Iran's largest religious minority, are being persecuted because they believe in equality and they don't believe in clergy – the underpinning of the power structure in Iran. In addition to being jailed on false charges, they're being denied access to higher education. The Baha'is set up the Baha'i Institute for Higher Education (BIHE) and have been offering secret classes in homes and by correspondence since 1987.
To better understand this part of story, I conducted an interview with a woman who was expelled from a state university in the early years of the Islamic Republic for being a Baha'i. She enrolled in BIHE to continue her education. She talked about the risks they took. "Kitchens were labs, basement were libraries. Every moment of classes you'd feel you could be arrested – for learning math, physics or chemistry." She now teaches at BIHE. "The level of enthusiasm, motivation and talent is unbelievable."
I take my freedom for granted.
After the screening Bahari mentioned he was arrested at 16 when he was getting coffee with his girlfriend at a coffee shop. I asked why he was jailed. The answer? Because he was getting coffee with his girlfriend at a coffee shop. Fraternizing with the opposite sex is not permitted in Iran. Call me naïve, but that was a revelation for me.
The hardships some people endure to access basic rights are mind blowing.
Journalism is a punishable offense in Iran. The regime will not allow the free flow of information. There are 51 journalists imprisoned in Iran. The country is second only to China for number of journalists jailed. Bahari was in prison for 118 days. Jason Rezaian – a Washington Post reporter – has been held in the same prison for over a year. Rezaian's trial just concluded, but no verdict was delivered. The system seems completely arbitrary, bizarre and impenetrable.
Unsurprisingly, it's complicated.
You might assume that Bahari would be against the nuclear deal with Iran given the country's human rights abuses, but you'd be wrong. In his opinion – shared here – the alternative to a deal is war and war would worsen the situation for all people.
As relations warm and trade becomes a reality, it's the most important time to not let the human rights agenda lose traction. I'm very proud to play a small role in supporting that effort.