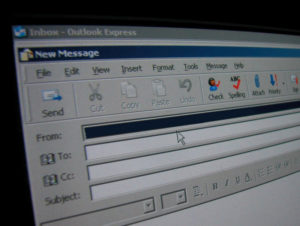 I'm fairly certain all types of professionals need to conduct follow-up. From physicians checking in with patients after surgery and teachers calling parents after an incident to project managers connecting with their team, ensuring deadlines are met. Working in public relations, the art of the follow-up is critical. It rarely takes one email to grab a reporter's or producer's attention.
During a recent client call, our contact reminded us to ping someone else if we didn't hear back on a document that needed reviewing. We joked about being professional pingers (h/t Rochelle Moulton) and not afraid to follow up.
RoseComm President and CEO Rosemary Ostmann refers to what we do as being "tastefully persistent". I love that. I am never trying to be pushy or a nag. I am being persistent because I care about my clients' stories. I want to feel the rush of seeing a headline that reflects our strategy.
Over the last few months, one media opportunity, for a philanthropy client that helps anyone earn college credit for free, reminded me of the importance of following up. After communicating with two interested but time-crunched journalists at a daily newspaper, I connected with their colleague. She too was interested, had the time to cover the story and wanted to know more after reading my pitch.
We worked with our client to thoughtfully answer each of her questions. I thought we'd schedule an interview and have a placement within days. I was wrong. I didn't hear back. I emailed. I called. I emailed again. I felt a little defeated. How could this reporter go from an enthusiastic reply to deafening silence?
It took multiple follow-up efforts over the course of roughly seven weeks, including sending a sneak-peek video showcasing the story of local high school students earning free college credit. Last week, after first exchanging emails in early October, the reporter's piece published.
In most cases, I don't spend countless hours following up with every reporter who receives my clients' press releases. But I invest the time continuously pitching the most relevant journalists with useful information. Hearing directly from a school administrator, teacher and students in the sneak-peek video ultimately helped regain the reporter's attention.
Persistence made the difference here. I'll likely point to this experience for years to come as an example of how what we do often takes time – even in today's fast paced, 24-hour news cycle.