RoseComm capped off World Press Freedom Day yesterday with a joyous reminder that we have the ability to successfully serve the greater good as well as our clients' businesses.
The SABRE Awards, which recognize Superior Achievement in Branding, Reputation and Engagement, last night named "Press Uncuffed" – RoseComm's pro-bono effort to help raise awareness of imprisoned journalists – the best North American not-for-profit PR campaign of the last year.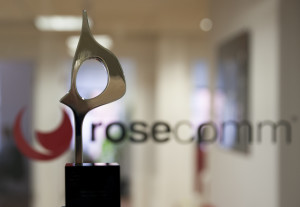 Have we told you about Press Uncuffed already? We hope so, but if not, here's an introduction. As many of our team members are University of Maryland alumni (Go Terps!), last year we built a relationship with students in the school's Philip Merrill College of Journalism. Together, we took a seedling of an idea – to raise awareness of wrongly imprisoned journalists around the world by selling bracelets bearing their names – and made it a reality.
How we did it
Working closely with Pulitzer Prize-winning Washington Post reporter Dana Priest (the students' teacher) as well as the Committee to Protect Journalists, our group raised almost $40,000 in crowd-funding efforts and grants to get the bracelet production started. Lucite International, a RoseComm client, generously donated clear acrylic material (signifying transparency in reporting), while Marketwired and News Generation also made pro-bono contributions.
The Press Uncuffed launch alone had a total circulation of more than 380 million impressions: It earned coverage from the Associated Press, Mashable, USA Today, The Guardian, Voice of America and several other outlets. A national radio tour that followed reached 27.3 million listeners.
The best result, however, is that seven of the 13 journalists featured on the Press Uncuffed bracelets have since been released: in Iran, Ethiopia, Bahrain, Mexico, Vietnam, Swaziland and China. Among those freed – after 18 months in Iran's Evin Prison – was Washington Post reporter Jason Rezaian, who participated in last week's White House correspondents' dinner.
"We have worn them daily, and they gave us strength," Mary Rezaian, Jason's mother, said of the Press Uncuffed bracelets she and Jason's wife, Yeganeh Salehi, wore during his detainment. "They also opened some opportunities for discussion."
Opportunities for discussion. Amen. That's why RoseComm exists, to richly tell our clients' stories and continuously foster opportunities for discussion.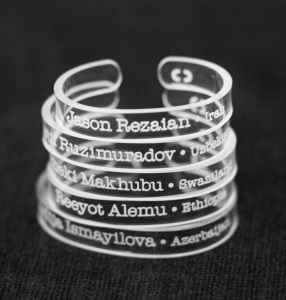 So, yes, we're a boutique firm, but gaining this recognition from the SABRE Awards is a reminder that we can successfully compete with the top-notch work done by large firms such as the other finalists in our category: MSLGROUP, Finn Partners, Ruder Finn and FleishmanHillard.
And our work with Press Uncuffed isn't done. In 2016, we'll go on raising awareness of global media oppression and continue to sell bracelets, honoring both those who've been set free and those still unfairly imprisoned.
So, if you've read this far down and you haven't ordered a Press Uncuffed bracelet yet, what are you waiting for? Help RoseComm support a very worthy cause. Here's the link.